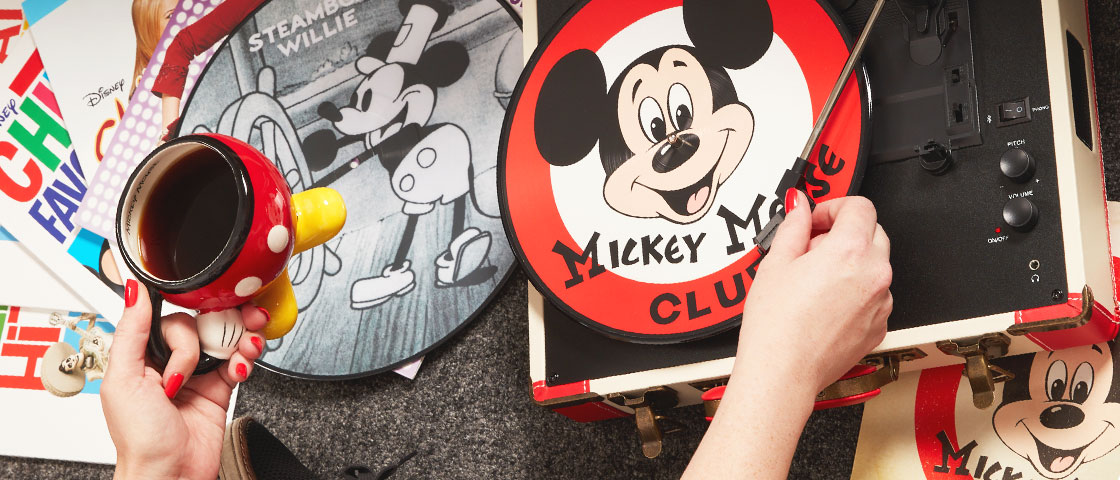 This Holiday Season, Make New Disney Memories with Old School Vinyl Records
November 26, 2020
We are living in the heyday of the vinyl revival. This year, for the first time in more than three decades, vinyl sales surpassed CD sales—which was just the latest proof that music lovers have gone back in droves to the nostalgic ritual of lowering a tiny needle on a spinning turntable and hearing the warm, old school groove of a vinyl record.
Turntables make for a great holiday gift, and luckily Disney Music Emporium has you covered! The stylish Crosley C6 Turntable has a sturdy, wobble-free construction and all the right moves to provide that warm, analog sound. For a higher-end experience, the Crosley C20—wrapped in genuine zebrano wood veneer—features a powerful, belt-driven motor, USB output, and an aluminum tonearm with sapphire bearings.
Of course, every record player needs a stack of fresh wax to spin. And from golden oldies to the latest hit shows on Disney+, there are so many great analog musical experiences to choose from.
Jam out to brand new blockbusters like Ludwig Göransson's Emmy®-winning anthem for The Mandalorian, available on a die-cut vinyl in the shape of The Child in his hovering buggy, or battle alongside the Avengers with picture discs of Alan Silvestri's scores for Endgame and Infinity War.
For other Marvelous music, check out the deluxe, song-loaded albums for both Guardians of the Galaxy films, featuring songs by Blue Swede, David Bowie, the Jackson 5, and Fleetwood Mac, along with the original scores by Tyler Bates. There's also Göransson's Oscar-winning score for Black Panther, a hybrid of Africana, hip-hop, and cinematic splendor; Mark Mothersbaugh's funky, electric score for Thor: Ragnarok; eye-popping color discs for Christophe Beck's Ant-Man & the Wasp score; a picture disc soundtrack for Silvestri's heroic music for Captain America; and a collection of 7" soundtracks from the small-screen adventures of the Marvel Defenders.
If you want to go full-on retro, you can time-travel back to classic Disneyland haunts like The Haunted Mansion, it's a small world, The Enchanted Tiki Room, and Pirates of the Caribbean with vintage soundtrack albums, or take a tour through the whole park, circa 1955, with A Day at Disneyland hosted by Jiminy Cricket and Walt Disney himself.
Relive classic animation like Steamboat Willie, Bambi, Cinderella, Sleeping Beauty, and The Jungle Book—or more recent classics like The Little Mermaid, Aladdin, The Hunchback of Notre Dame, The Princess and the Frog, Tangled, and Frozen—with colorful picture discs full of their iconic songs and nostalgic scores.
Whatever genre or era you love, you can disco with Mickey Mouse, sing along to the timeless tunes of the Sherman Brothers (from Mary Poppins to Winnie the Pooh), or rock out to the modern showtunes of High School Musical and Camp Rock. There's even the "Satchmo" style of Louis Armstrong's jazz trumpet playing Disney hits like "Heigh-Ho," "The Bare Necessities," and "When You Wish Upon a Star."
Pixar fanatics can find vivid picture discs for Michael Giacchino's throwback spy score for The Incredibles, his French-flavored feast for Ratatouillie, and his Oscar-winning, heartbreaking score for Up. Highlights from the composer's Emmy-winning, small-screen opera, Lost, are available as a live concert album, We Have to go Back, recorded in Ireland.
And then there's Star Wars—John Williams' generation-spanning space opera—which fills up everything from a 40th anniversary box set of the original 1977 film score, to picture discs for all of the latest sequels, his symphonic suite for Galaxy's Edge, and more. The maestro's music for Star Wars and several other beloved movies is reimagined for Anne-Sophie Mutter's virtuosic violin on the collector's edition of Across the Stars.
From the child in age to the child at heart, from starry-eyed space wanderers and superhero fans to theme park explorers and animation romantics, Disney Music Emporium has the ageless melodies and infectious songs that anyone could wish on a star for—all on the vibrantly warm, spinning discs from the childhood of recorded music.