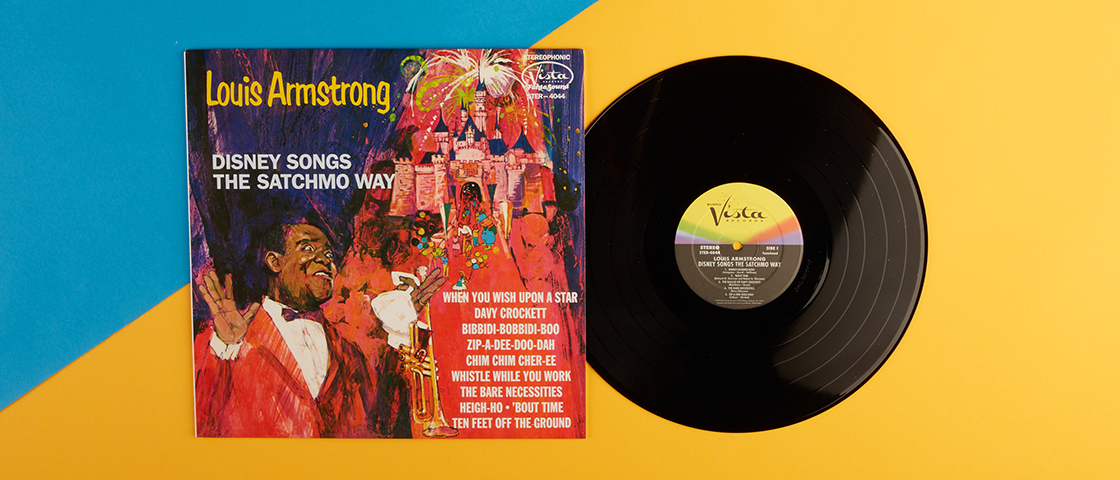 Just Listen to Old Satchmo
February 16, 2021
In the sunset years of his incredible life, Louis Armstrong had "one last great record in him" (according to his longtime clarinetist Joe Muranyi). Disney Songs the Satchmo Way, released on the Buena Vista label in September 1968, was a showcase for the singer and trumpeter to interpret several timeless tunes from the Disney catalogue in his inimitable style—while simultaneously revealing the New Orleans jazz hidden inside them.
The album was Walt Disney's idea, though sadly he wouldn't live to hear it. Armstrong had been a regular presence at Walt's park since 1961, performing in the popular "Dixieland at Disneyland" series and starring in a 1962 episode of World of Color, "Disneyland After Dark."
While in Hollywood to film his small part in Hello, Dolly, Armstrong joined a band in Sunset Sound to record his swingin' renditions of classics like "Heigh-Ho!" "Whistle While You Work," "Chim Chim Cher-ee," "Bibbidi-Bobbidi-Boo," and "The Bare Necessities."
The high point was arguably the album's closer, "When You Wish Upon a Star." As Terry Teachout wrote in his Armstrong biography Pops, the singer sweetened Ned Washington's lyric "with an affirming touch of tenderness: If your heart is in your dream / No request is too extreme. It was as though he were singing his own epitaph."
Armstrong—who adopted the nickname "Satchmo" derived from "satchelmouth"—was so happy with the album that he wrote a letter to producer "Tutti" Camarata, saying: "This goldarned 'Wish Upon a Star' is so beautiful and more than that, man—I listen to that tune three or four times a night. Man, did you know I'm a doggoned longtime wishing cat? Well, I am man."
He ended the letter with: "I haven't enjoyed anything better than our recording sessions since—well, I can't remember when."
Bass player Jimmy Johnson later recalled those sessions as "among the happiest I can remember. [Armstrong] had been quite ill and had gone on a rigorous diet. He was very thin but looked well and was full of energy. He not only sang on the album, he blew his horn, something he hadn't been doing much of in recent days."
Armstrong wailed on his trumpet, scatted, and growled in his uniquely endearing voice—drawing new flavors and delights out of familiar numbers by some of the great Disney songwriters, including the Sherman Brothers, Leigh Harline, and Frank Churchill.
Now, you can listen to Disney Songs the Satchmo Way just the way they did in 1968—on a turntable. This beloved LP is available, along with many other retro vinyls, at the Disney Music Emporium. As Louis Armstrong scat-sings in the album's opening track: "It's the truth, it's actual… just listen to old Satchmo there!"