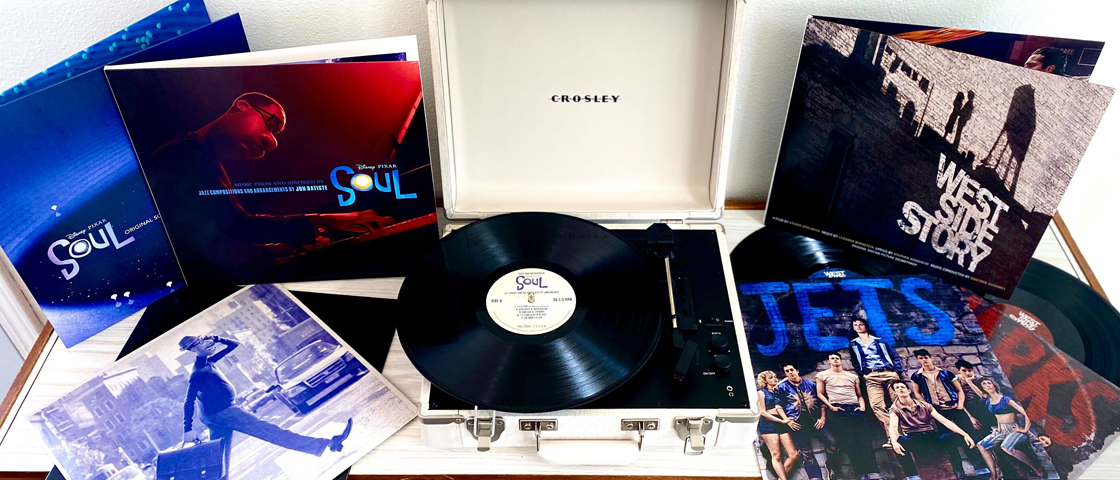 Spin Gold with These Award-Winning Soundtrack and Oscar- and Grammy-Winning Artists on Disney Vinyl
April 19, 2022
We've got the gold! As this year's award season wraps up, Disney Music Emporium has turned into a trophy room of prize winners—and they're all yours for the spinning.
After taking home an Oscar, BAFTA, Golden Globe, and numerous Critics Choice Awards last year, the Soul soundtrack kept the party rolling with a win at this year's Grammy Awards. Critics and peers all agreed: there's something undeniably special, and soulful, about the hybrid of jazzy contributions by Jon Batiste (the night's biggest winner at the recent Grammys) and the celestial beats of Trent Reznor and Atticus Ross' original score.
Slide into the now of jazz pianist Joe's world with an LP dedicated to Batiste's original compositions and arrangements inspired by the movie, decorated with red velvet artwork from the film. "All the compositions are influenced by a large swath of the hundred-plus years of jazz music," says Batiste, "which gives the listener a lot of reference points. It's a subtle way to pay homage while also introducing a whole new audience to these types of sounds."
And for a trip to Joe's high-tech hereafter, turn to the cool blue design of a separate vinyl album featuring Reznor and Ross' starfield score. Two unique soundtracks for two sides of the same soul.
People everywhere can't stop talking about the soundtrack for Encanto, the animated musical that has dominated the Billboard charts with its earworm hits by Lin-Manuel Miranda—particularly the pop phenomenon, "We Don't Talk About Bruno." The nostalgic guitar ballad "Dos Oruguitas" was nominated for an Oscar, and both songs are part of an irresistible songbook that jumps around genres and gives each member of the family Madrigal their own unique beat—all stacked on a verdant green vinyl that features the singing talent of Stephanie Beatriz and the film's cast.
"The notion of a family musical that gets to the complexity and interconnectedness of families was really interesting," says Miranda. "One of the ongoing themes was how we all cast our family members in certain roles. How do those roles change over time? How do they stay the same?"
A 60-year-old musical masterpiece was recently given fresh life by Steven Spielberg, who used to spin the vinyl recording of a certain 1957 Broadway show. "I loved the West Side Story cast album from the first time I listened to it," he says. "As a kid I could sing every one of its songs by heart–and I did sing them, until I wore out the patience of my entire family. The score feels like it's always been part of me, and I believe that this is the greatest music ever written for musical theater."
Spielberg's West Side Story was nominated for seven Oscars, including best direction and best picture. The timeless, jazz-symphonic songs by composer Leonard Bernstein and lyricist Stephen Sondheim are available once again on vinyl, featuring faithful but vibrant new interpretations of classics like "Maria," "Tonight, Tonight," and "Somewhere"—the latter performed by the legendary Rita Moreno, who played Anita in the 1961 movie adaptation. And it's physically impossible to sit still during "America," a fiery ensemble number led by Ariana DeBose, who won an Oscar for Best Supporting Actress as the new Anita.
Another big winner at this year's Academy Awards and Grammys was the brother-sister team of Billie Eilish and Finneas O'Connell. The wunderkind duo sprinkled their pop pixie dust on the new Pixar movie, Turning Red—writing the delightfully sticky, retro songs for the film's Y2K-era boy band, 4*Town.
Director Domee Shi based a lot of the movie on her own girlhood, and she knew she wanted to have her own unique staples of the boy band genre: "Nobody Like U," ("the hit that everybody knows"), "1 True Love" ("the earnest, heart-on-your-sleeve power ballad"), and "U Know What's Up" ("the party show-stopper"). Billie Eilish was only a baby when this era of pretty-boy music was omnipresent, she says, "but boy bands have a very specific sound, and it's music I grew up listening to and loved. It was really, really fun to just play around in that world and write in the mind of a corny boy."
Take these albums, and many other award-winners from years past, for a spin today!